ATLANTA — If you thought it's been a relatively storm-free spring in the Atlanta area, you're not incorrect. North Georgia just had one of its quietest spring severe weather seasons in years.
From January 1st through May 31st, there were no tornado warnings issued for the Atlanta metro and just a handful of severe thunderstorm warnings. The last tornado warning issued in the Atlanta metro was more than six months ago on Dec. 31, 2021.
The map below shows all of the severe thunderstorm and tornado warning polygons issued from National Weather Service Offices across the southeast.
What is the most eye-catching looking at the graphic below is the big donut hole and lack of warnings issued across north Georgia.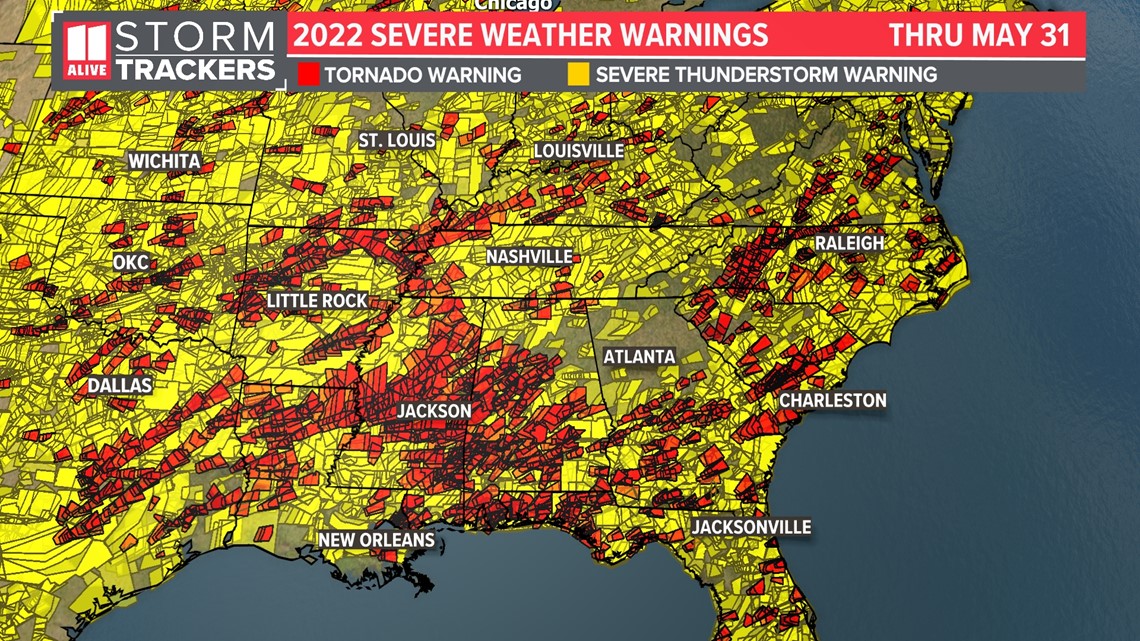 There was some significant severe weather across central and southern Georgia, including the state's 11th EF-4 tornado on record in the Bryan County, just outside the Savannah area.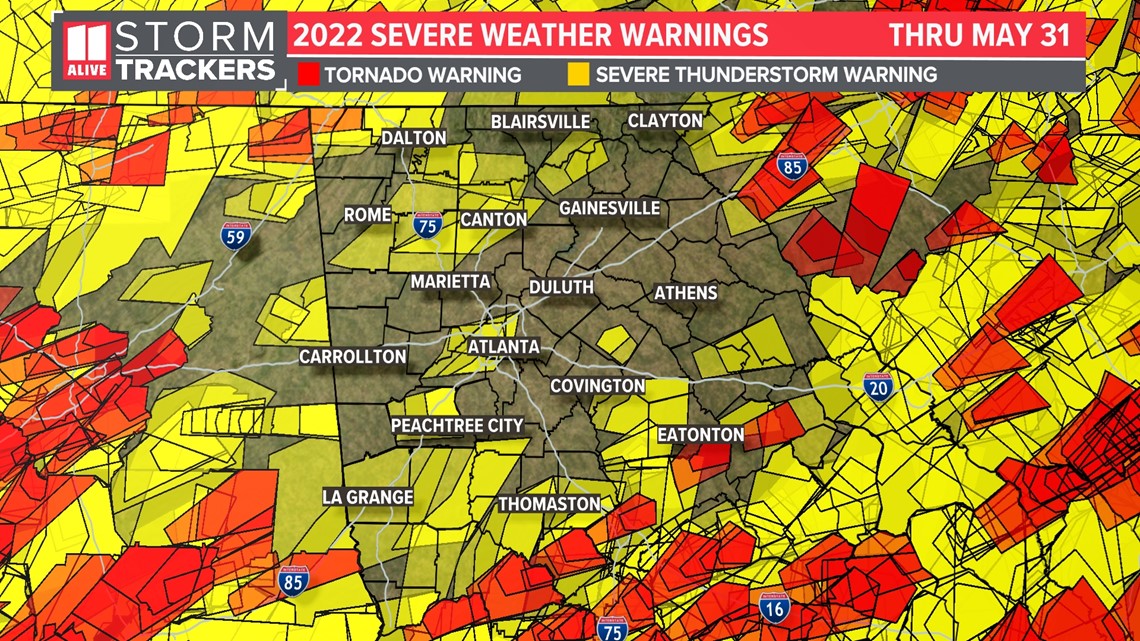 But for North Georgia and the Atlanta metro, be thankful. It was a quiet spring severe weather season. The last couple of years were not that fortunate.
Back in 2021, an EF-4 tornado struck Newnan in the heart of Coweta county.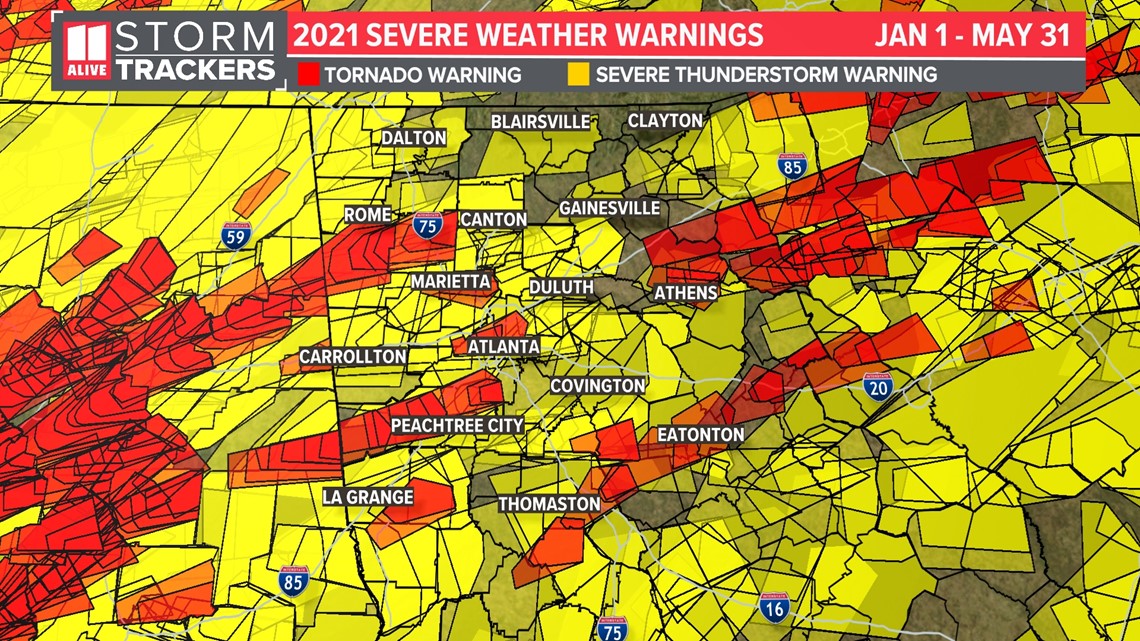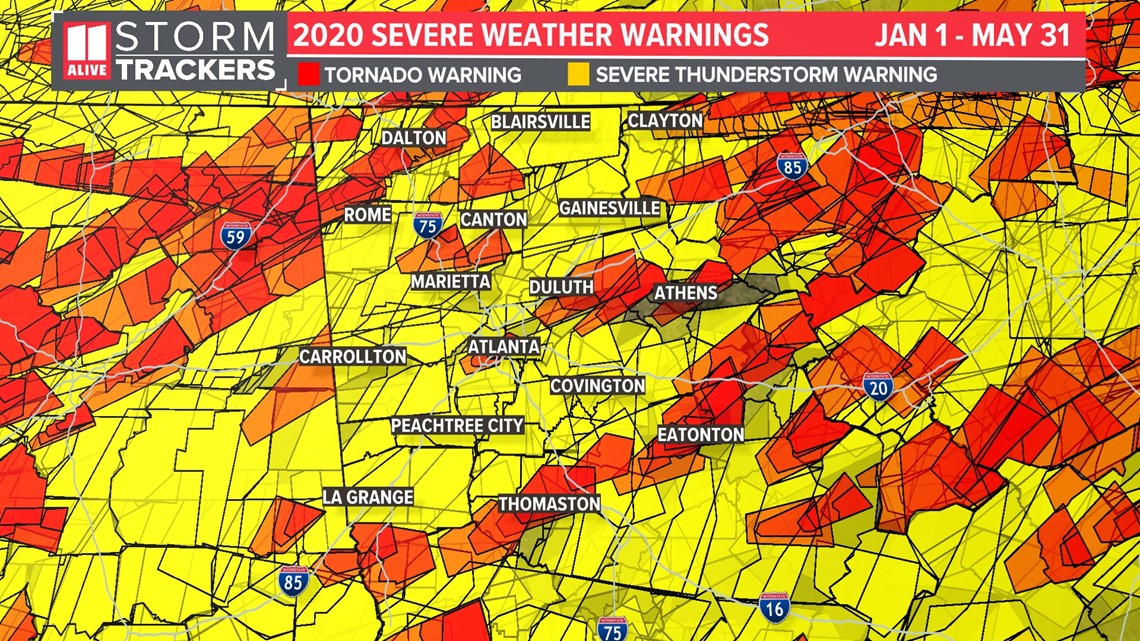 So what are some of the reasons we were spared this spring?
For severe weather to occur it really has to be a 'Goldilocks and the Three Bears' scenario and everything has to come together just right.
The 11 Alive StormTrackers did track several strong incoming cold fronts. But as the storms made their way into North Georgia, it was often in the middle of the night or early in the morning. These are the least idea times for severe weather to prosper, as we don't have any daytime heating. Our atmosphere is more stable. Strong and severe storms aren't able to sustain themselves as easily without that energy.
There were also many times when this timing meant that storms could later fire up and intensify again as they made it into the Carolinas. It was a very active spring season for Charlotte up to the Piedmont in North Carolina near Greensboro.
As for overall trends of our jet stream, this spring we've been in a La Niña. In the winter, this can mean that the more active storm track is over Georgia. We saw this in December during the last week of the year with several severe weather events. But La Nina trends for the spring are not always as clear.
What about the rest of the year?
In 2022, there's no guarantee the rest of the year will be as quiet as it's started.
Severe Weather can happen any time of year in north Georgia. But we generally see two main "severe" seasons a year. In the springtime as temperatures begin to warm and an active jet stream still takes deep dives, severe weather season heats up across the deep south. In Georgia, our most active months for both severe storms and tornados are March, April and May.
The graph below shows Georgia tornados by month from 1950 to 2016. Pay attention to the sharp uptick in the spring.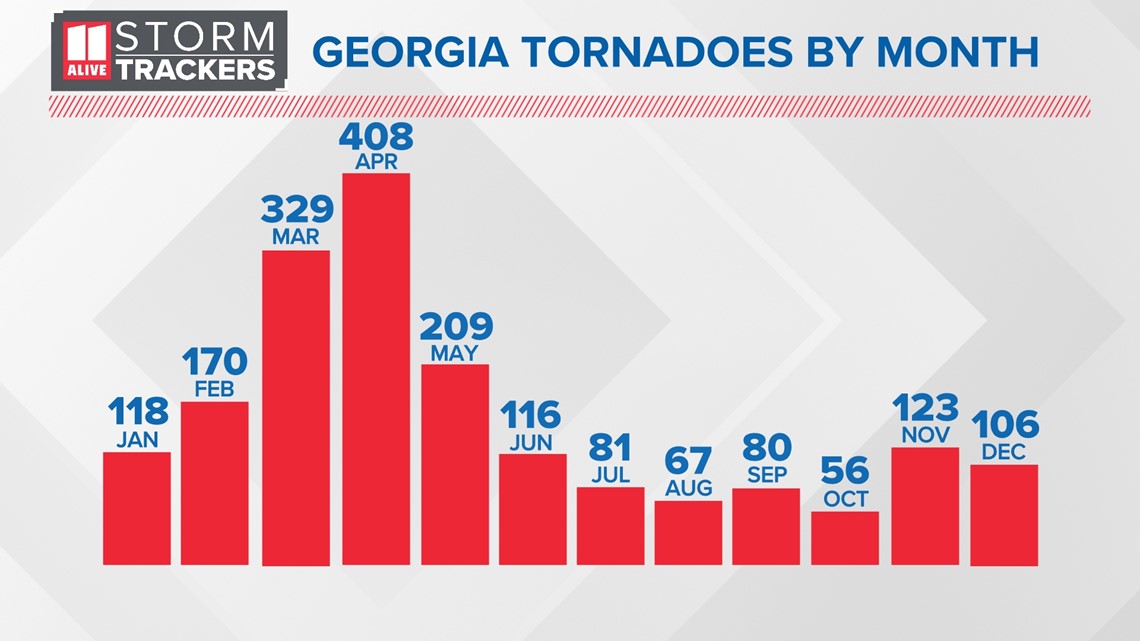 In the summer, the months are often dominated by high pressure off the Atlantic or over the southeast. We have plenty of heat and humidity and some afternoon storms, but these storms produce downbursts of strong winds and heavy rain, but not the spin needed for tornado formation.
Generally speaking, strong cold fronts with more wind energy (necessary for tornadoes) do not make it down to Georgia. Our summer exception to this is landfalling tropical systems. These can and do often produce some brief, weak tornadoes as they move inland. A good example of this is Fred from 2021, which spawned seven tornadoes in North Georgia.
But on the above 'Georgia Tornadoes by Month' graph, you see an uptick again in tornado frequency at the end of the year. We see the jet stream begins taking some dives further south again and an uptick in severe weather in November and December.
Statistically, Georgia averages 26 tornadoes annually, based on data from 1985 to 2014. But some years are more active than that.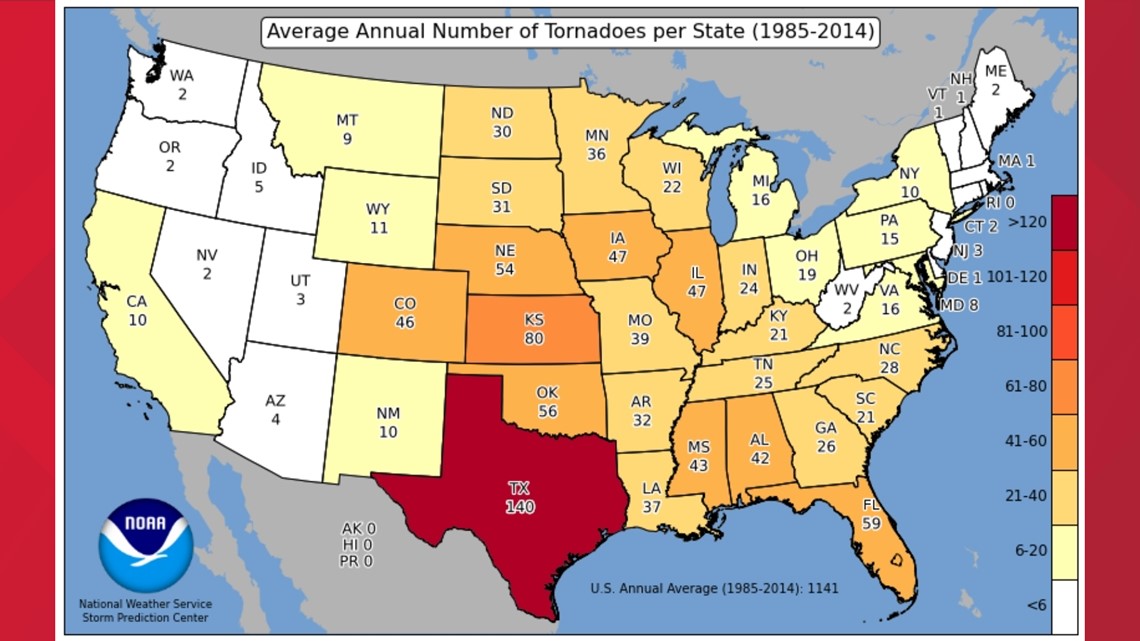 Remember, severe weather can strike any time of the year and you should always be prepared.