ATLANTA — Tyler Perry is celebrating another win!
The media titan went to social media after learning his film, "A Fall From Grace" was streamed by 26 million during its first week of release.
This is Perry's first film to stream on Netflix. It's also the first time his film has been released to audiences around the world on the same day.
In a personal video message on Instagram, Perry thanked his supporters who he calls "the army."
"I'm trying to like take this all in," he said. "My Tyler Perry audience, the army that is standing behind me. One day, you're going to realize that I don't walk alone because you're all with me."
"I'm so blown away by what I just heard," Perry said. "Netflix "A Fall From Grace" in the first seven days - 26 million people chose to watch it."
Perry went on to thank fans "from the bottom of my heart."
"I'm grateful. I'm thankful. I'm blown away by it. I'm inspired, I'm encouraged," he said. "You guys have had my back. There's a lot of people around here that are so happy and working very hard. I just love how y'all have always supported me. I just want to say thank you my heart is full."
A rep from Netflix tells 11Alive the method of measurement is based on what the company described in its investor letter that was released about two weeks ago. The letter explains the company is now reporting on households (accounts) that chose to watch a given title.
Views are considered when a household chooses to watch for at least 2 minutes - long enough to indicate a stream choice was intentional.
"For instance, the number that was released for Irishman was based on an older method of measurement of a view, meaning that a household watched 70 percent or more of a title - so the comparison between the two films isn't apples to apples," the rep tells 11Alive.
"A Fall From Grace" was met with praise and criticism following its release.
The film features actors Phylicia Rashad, Bresha Webb, Mehcad Brooks and the iconic Cicely Tyson.
Crystal Fox leads the film's cast as Grace Waters. In the movie, Waters goes through a tumultuous ride after finding that her new romance is short-lived
FIRST LOOK | Tyler Perry's A Fall From Grace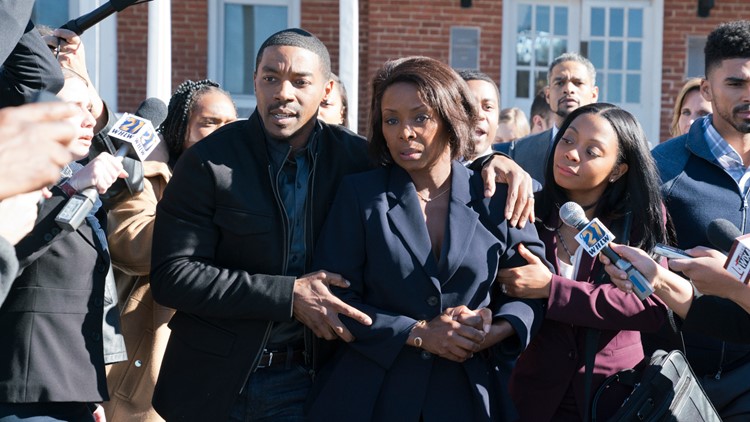 The A-Scene's Francesca Amiker spoke candidly with Perry and the cast of "A Fall From Grace" during an interview.
Amiker, who screened the film during the Atlanta premiere, revealed her thoughts about a scene involving Fox and actor Mehcad Brooks.
"There was a monologue in this movie that truly hurt me to my core," Amiker said. "It was when Mehcad Brooks said 'weak' and 'old,' and it was the way that he delivered that monologue that it hurt me. It hurt me so much."
"Low-hanging fruit," Fox chimed in.
When Perry asked her why, Amiker said it was almost him revealing how so many black men talk to black women.
"It was almost as if that was our community secret, showing people that, and so I wanted to know why it was important to include such a monologue in a film like that - because just listening to it, I was almost … I was insulted. I was proud because the acting was phenomenal, but I was insulted, almost," Amiker said.
"Well, let me tell you things that my father said to my mother were far worse, and I was a child there sitting listening to it - trying to make her know she was special," Perry said. "She was better than that. She didn't have to endure that. She didn't have to listen to that. I wanted to jump up and protect her, but I was too little and too young."