SUWANEE, Ga. — Cliff Ramos is as accomplished a wrestling coach as they come, with more than 1,000 wrestlers learning from him across 42 years and multiple state titles to show for it.
His crowning achievement, however, might be a single practice.
The former Collins Hill High School coach retired a few years back, but his spirit never left the school.
"Even when he retired he said I'll always be green, I'll always be an Eagle," his wife Kathy Ramos said.
Ramos grabbed the clipboard recently for what he called "one more practice," and all his wrestlers were invited.
"Nothing's changed from 1976, he had that aura, I mean you would wrestle for him," said Rick White, a 60-year-old who once wrestled for Ramos.
For Ramos, one more practice wasn't a guarantee. Last April, nothing was guaranteed.
He was blindsided by a pancreatic cancer diagnosis.

"I worked in the yard for an hour and a half, played three sets of tennis with three guys half my age, I went to the gym for an hour, I felt great," he said. "The next day I started feeling bad and then the next day after that I was diagnosed with pancreatic cancer."
It was difficult news to take. Pancreatic cancer is one of the deadliest cancers - according to the National Cancer Institute, its five-year survival rate is less than 10 percent.
"I had no warning," he said. "I said to my wife, 'I've had a good life.'"
His wife said it felt like "time is being snatched away."
Ramos was stunned. But if there was anything he knew how to do, it's how to put up a good fight.
"He's a tough nut," his wife said. "I remember when he was in the hospital, the nurse practitioner who knew he was a wrestling coach, she made him look in the mirror and say, 'Talk to your wrestlers right now. You keep fighting.'"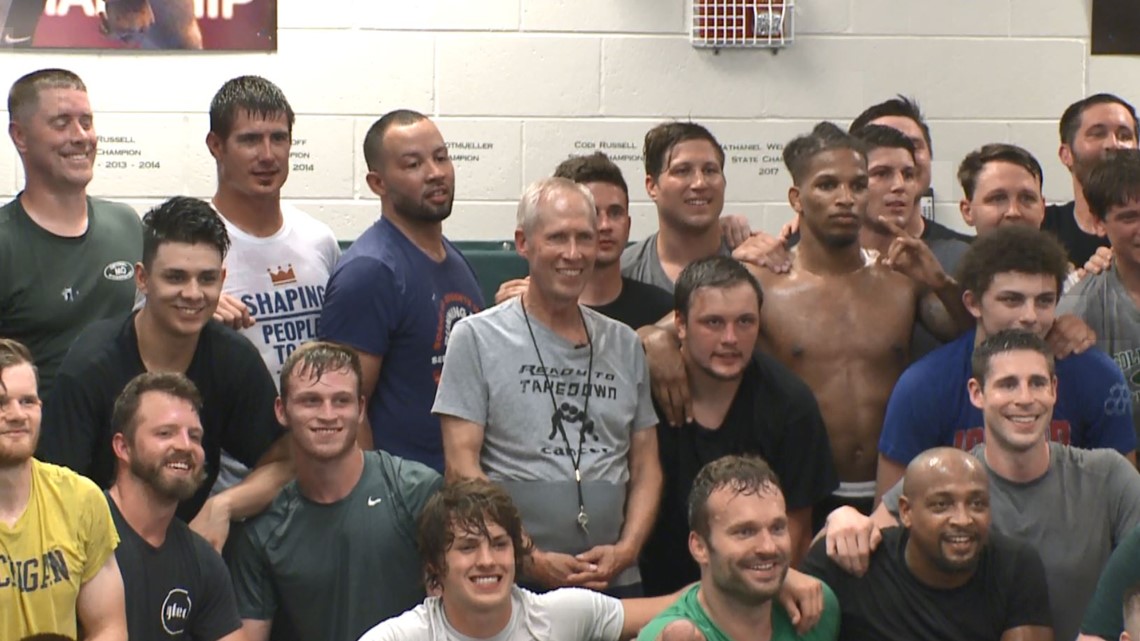 Ramos said his surgeon was wary about him as a candidate for a potentially life-saving procedure. Then he learned about his wrestling history.
"When I initially met my surgeon, he looked at my file and he looked at my scans, and he told me, he said 'I don't know if I can do this surgery, you're very, very borderline for this surgery because your tumor's wrapped around a very important artery," Ramos said. "And then he kept reading my file and he looked at me, he said, 'You're a wrestling coach?' I said, 'Yes.' He said, 'You were a wrestler?' And I said, 'Yes.' And he didn't say anything more about it, but he did the surgery."
Ramos underwent months of chemotherapy to try and shrink the tumor. He then underwent the Whipple procedure, an operation to remove the tumor and reconstruct the gastrointestinal tract.
As he recovered, his only relief was wrestling.
"It was good therapy," he said.
He came across a book, "The Last Lecture," written by a professor with terminal pancreatic cancer. Not knowing if he could even coach again, Ramos wrote his own book, "One More Practice."
"The idea of 'One More Practice' was a reunion," Ramos said. "Let me write about it, because I didn't know if I would actually be able to do one more practice. So I started feeling better, I thought, 'You know what, I'm gonna try to organize this practice.'"
Then he recovered, and brought dozens of his wrestlers back together.
"It brought me back, like, I'm coaching again," he said.
The practice "gave him the opportunity to remember all that he's lived for" his wife said.
"It's a wonderful day. I'm gonna remember this day," Ramos said. "I don't know how much time I've got left, but I'm gonna remember it for a long, long time."
Ramos held one more practice, but by no means does he hope it's his last. If he's up for it, he hopes to help a team in the fall.
MORE HEARTWARMING HEADLINES