ATLANTA — Severe weather swept through metro Atlanta and north Georgia Tuesday and Wednesday, as some areas received damage from tornadoes.
As of Thursday evening, the National Weather Service confirmed an EF-0 tornado touched down in Stonecrest in DeKalb County, an EF-0 tornado touched down in Coweta County and an EF-1 tornado touched down in Heard County.
You can check out the details of each NWS report below:
DeKalb County
The NWS will soon release its report on the tornado in Stonecrest. Check back later for new details.
Coweta County
The NWS confirmed an EF-0 tornado touched down Tuesday in Coweta County.
According to the report, it had maximum winds of 80 mph when it hit near Sullivan Road and Fairway Court. Downed trees were reported in the area around 7 p.m.
This is not far from the area where a large tornado devastated the community in 2021.
The storm survey report mentions the tornado initially touched down in the White Oak community near Nicklaus Walk and Tillinghast Trace; several small trees were snapped. The storm then moved northeast and larger pines were snapped near a golf course fairway between the White Oak and Woodstream communities, the report said.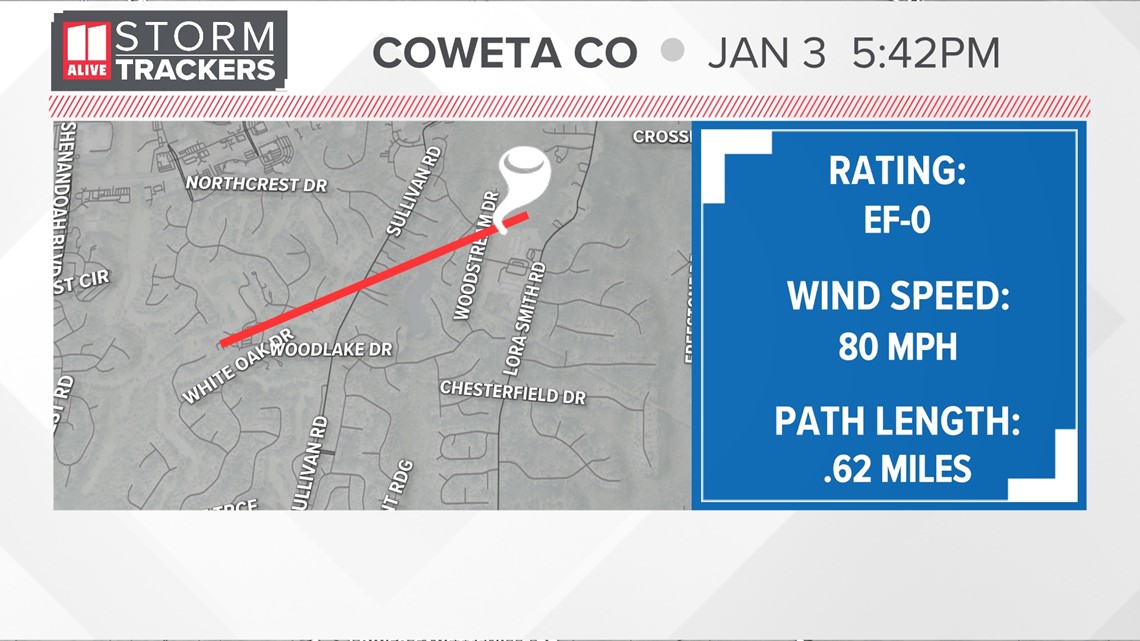 Heard County
The NWS also confirmed an EF-1 tornado hit Roosterville on Wednesday morning around 5 a.m. Surveyors with the NWS examined the damage and determined that the tornado hit the area – destroying homes in just 3 minutes.
The NWS said the tornado likely continued on for almost three miles – going on a path of destruction with 105 mph winds.
According to the NWS report, the tornado got its start on Hendley and Roosterville Roads, then traveled along Gum Creek Airport Road where it took out a barn near a home. It weakened when it moved northeast on Huff Road and Highway 27.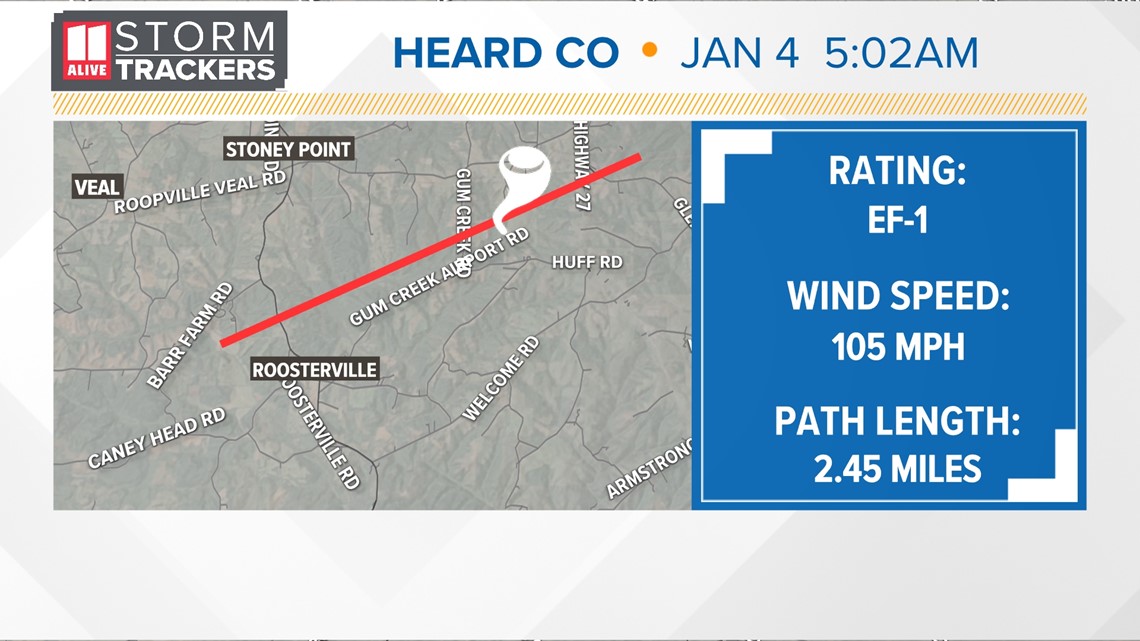 Tornadoes, storm damage in metro Atlanta counties


MORE FROM THE 11ALIVE STORMTRACKERS
DOWNLOAD THE 11ALIVE APP:
Set up weather notifications by clicking the Gear icon in the upper right corner of the app. Select Notification -> Notification Settings -> Severe Weather Alerts -> Toggle the Severe Weather Alerts button to the right to turn alerts on.
Send photos and videos through the app by selecting the Near Me feature on the bottom right taskbar of the app and entering your information.
TEXT YOUR WEATHER PHOTOS TO US: 404-885-7600
JOIN THE 11ALIVE STORMTRACKERS FACEBOOK GROUP: Nearly 10,000 metro Atlanta and north Georgia weather enthusiasts share their weather photos every day. Click here to join the group!