ATLANTA — It was the gala of the year - maybe the decade - and given that there were only 800 people invited, you probably weren't there to witness it.
The grand opening of Tyler Perry Studios brought out the best and brightest to the red carpet in Atlanta this weekend - Oprah, Beyonce, Jay-Z, Samuel L. Jackson, Halle Berry, Spike Lee and many, many more were in attendance.
Fortunately for the curious, the event wasn't completely blacked out. Video provided to 11Alive by Tyler Perry Studios shows what it was like inside the celebration.
It reveals the opulent dinner setting, performances by Mary J. Blige and Jennifer Hudson and the sound stage dedication ceremonies for luminaries like Sidney Poitier, John Singleton and Diahann Carroll.
Tyler Perry made history as the first black man to own a major movie studio.
The 330-acre lot used to be a U.S. Army base known as Fort McPherson and was once a Confederate stronghold during the Civil War. The resonance of a black man taking ownership of and repurposing land once worked by slaves coursed throughout the evening.

Many stars, including Beyonce, said it was an emotional night for Black Hollywood.
"I could feel our ancestors' presence," Beyonce wrote in an emotional Instagram post. "Generations of blood, sweat and tears, success, excellence and brilliance. It makes me so proud, so full, I could not stop crying."
Perry, too, remarked on the symbolism of the evening.
"There's so much history here. There's so much amazing culture and richness in the land. It's everywhere I go, it's everywhere I walk. Every time I'm around this place. I feel it," he said. "So, I think the biggest challenge is living up to the legacy of what this is, and support it and honor it the way it should be."
In a particularly memorable moment, Oprah embraced Perry on the red carpet and told 11Alive's Francesca Amiker how proud she was of him.
"I am like a proud big sister tonight," she said. "Frank Sinatra's song 'My Way' should be his theme song forever."
"He did it his way. He didn't wait for Hollywood. He didn't wait for anyone to tell him how to do it. He did it his way," Winfrey added.
"This is a historic night," he said. "This is a historic night in cinema."
PHOTOS: Tyler Perry Studios grand opening red carpet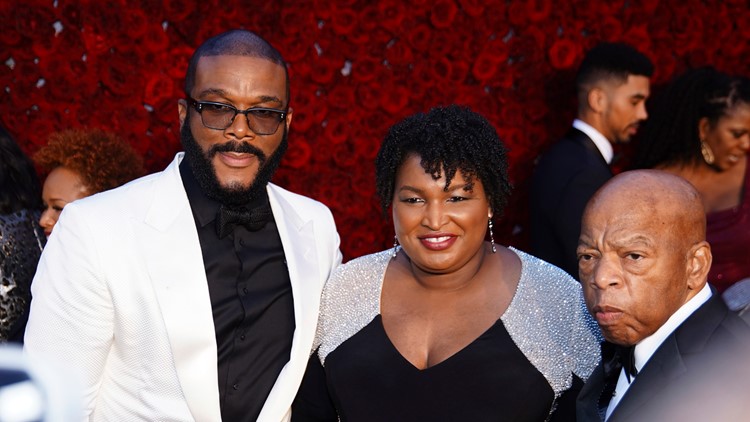 MORE FROM TYLER PERRY STUDIOS GRAND OPENING