ATLANTA — When Tyler Perry officially opened his massive film studios in Atlanta, it was a star-studded event.
Action-packed productions like "Bad Boys for Life" and "Coming 2 America: Quest," are two of the biggest film projects currently in progress.
Both franchises are wildly successful and has fans on edge, waiting for their releases. The movies are also currently being made at Tyler Perry Studios.
Will Smith and Martin Lawrence from "Bad Boys For Life" and Eddie Murphy and Wesley Snipes from "Coming 2 America: Quest" were all spotted hanging out in between takes on set.
These photos of the iconic actors were snapped and posted on Instagram by celeb hairstylist Stacey Kutz. She wrote on Instagram, "A whole lotta greatness right here at @tylerperrystudios @therealpierceaustin are we working or having a reunion today? lol"
Kutz tagged Smith, Lawrence, Murphy, Tracey Morgan, and Shari Headley, who is reprising her role as Lisa in the film.
Smith later shared the moment on his own Instagram account with the caption," Nothing to see here."
Perry later shared the same image on his social media account.
"Bad Boys For Life" is produced by Jerry Bruckheimer, Melissa Reid, Chad Orman, Mike Stenson, and James Lassiter.
Smith and Lawrence made box office history when the original "Bad Boys" hit theaters in 1995 and became a success. The film grossed $65.8 million in domestic box office revenue. The duo then came back nearly a decade later with a fiercely-produced sequel "Bad Boys II" in 2003. The film grossed $138.6 million.
"Bad Boys 4 Life" hits theaters in January 2020.
Martin Lawrence, Will Smith filming 'Bad Boys for Life' in Buckhead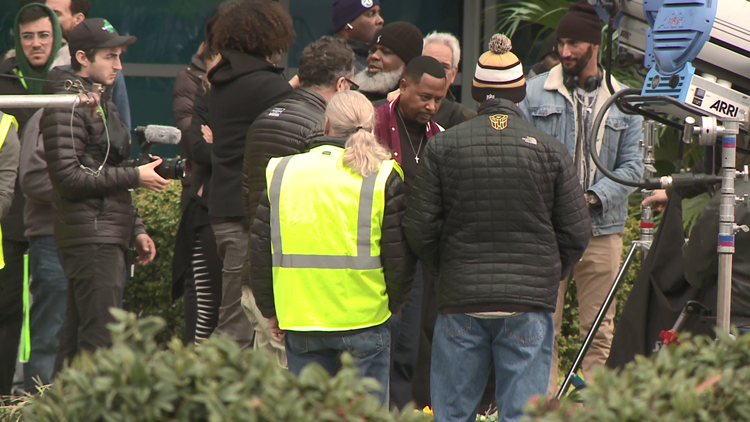 "Coming 2 America," meanwhile, will feature Murphy again, and it will center around his character Prince Akeem. In the sequel, he returns to the states to find his long-lost son in America so he can take the throne.
Eddie Murphy's 1988 hit grossed nearly $300 million at the worldwide box office. The sequel is expected to hit theaters Aug. 7, 2020.
Photos: See Tyler Perry Studios from above