ATLANTA — Editor's Note: Manuel Esteban Paez Teran uses "they/them pronouns." 11Alive will use they/them pronouns when referring to Paez Teran.
This story has been updated to include new information that shows particles of gunshot residue was found on Teran's hands.
Environmental activist Manuel Esteban Paez Teran was shot 27 times by law enforcement earlier this year while protesting the Atlanta Public Safety Training Center, new autopsy records and an interview with the director of DeKalb County's Medical Examiner's Office revealed.
According to the autopsy, 26-year-old Paez Teran suffered at least 57 gunshot wounds during the shooting. Patrick Bailey, the director of DeKalb County's Medical Examiner's Office, told 11Alive that Paez Teran was shot 27 times.
Some shots caused multiple exit wounds. Fourteen projectiles or bullet fragments were recovered from Paez Teran's body or clothing during the autopsy. Shots that passed through Paez Teran's legs, ankles, and feet caused wounds that overlapped. Exit wounds were not located for some of the shots, according to the report.
The DeKalb autopsy revealed 36 of the wounds were on Paez Teran's lower body. Some of those wounds could be the result of bullet re-entries or re-exits, according to the report.
DeKalb County Medical Examiner Gerald Gowitt was also unable to determine how Paez Teran's body was positioned when they were shot by law enforcement. He found Paez Teran's left fist was likely clenched when they were hit in the hand.
An independent autopsy commissioned by Paez Teran's family concluded the protester was most likely seated with their arms in front of their body during the shooting. According to that report, it was impossible to determine if Paez Teran had been holding a firearm before being shot or while being shot.
"Since most shootings involving multiple gunshots are dynamic events attempts to place the decedent in any particular position at a specific point in time is fraught with potential inaccuracies," Gowitt wrote in the county's autopsy report. "There are too many variables with respect to movement of the decedent and the shooters to draw definitive conclusions concerning (Teran's) body position."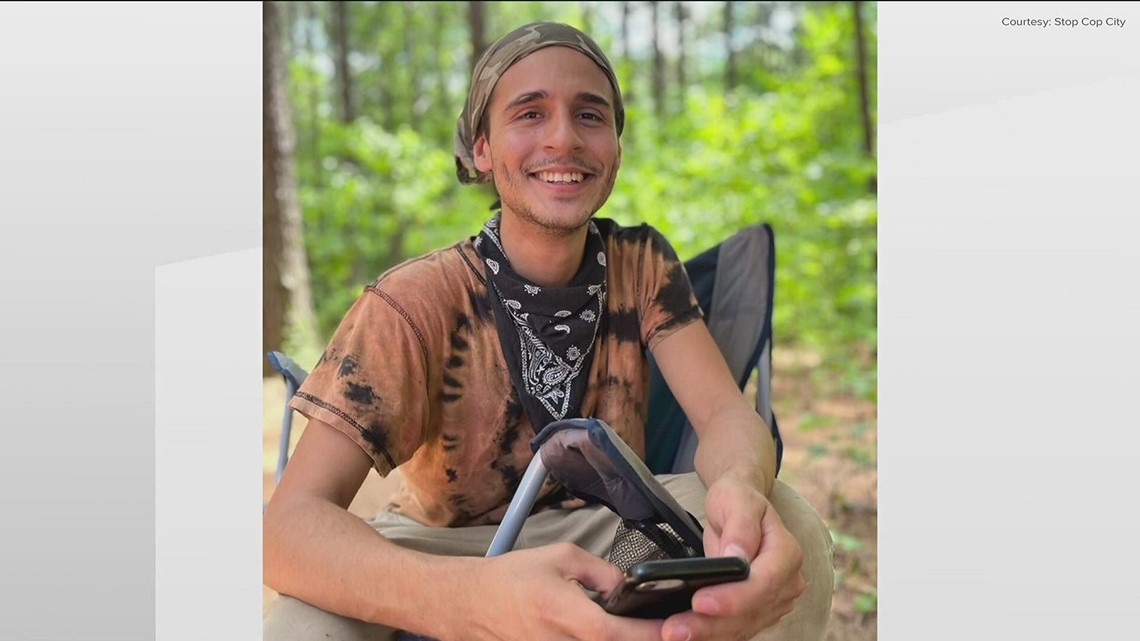 Darryl Cohen, an attorney not affiliated with the case, spoke with 11Alive and discussed the importance of the differences in the autopsies when describing the hand and arm position of Paez Teran.
"It's a major disparity, it can be extremely important because in this instance DeKalb County said there's a clenched fist which obviously means the clenched fist was holding a weapon that was allegedly used to shoot and wound one of the law enforcement people," Cohen said. "On the other hand, the private autopsy says (their) hands were raised, and it's possible that they're not actually in contradiction. It is possible (their) hand was clenched and then (they) got shot immediately and may have raised (their) hands because this doesn't take minutes to unfold. It takes seconds."
Neither report found gunpowder remnants on Paez Teran's wounds — evidence that suggests the shots were not fired at close range.
Gunpowder residue was "not seen" on Paez Teran's hands. However, "particles of gunshot primer residue" were found on a sample taken from the hands, according to testing done by the Georgia Bureau of Investigation.
Those particles, which are microscopic and not immediately seen by the naked eye, can be shown through such testing. More than five particles "characteristic of gun shot residue" were found using scanning electron microscopy with energy dispersive X-ray spectroscopy, according to the report.
According to the test, it is possible that shooting victims would have gunshot residue on their hands. This includes self-inflicted and "non self-inflicted" wounds.
"This supports the possibility that the individual discharged a firearm, was in close proximity to a firearm upon discharge or came into contact with an item whose surface bears GSR," according to the test.
The independent autopsy commissioned by the family identified only 14 gunshot wounds. It was conducted Jan. 31. The DeKalb autopsy took place on Jan. 19 and 20. Paez Teran was killed Jan. 18.
Kris Sperry, the state's former chief medical examiner, conducted the independent autopsy.
Cohen said the difference of the reported gunshots between the two autopsies is not a big deal in this case.
"It might have been (a big deal) if DeKalb County said there were only 14 wounds and the private autopsy said 57," Cohen said. "Then it shows the prosecution is trying to cover up and change things. In this instance, it's completely the opposite, so I don't see how this helps anyone other than the prosecution."
Cohen said it all depends on numerous factors to determine which autopsy holds more weight if a case moves in front of a judge.
"We have a number of people that do not want 'Cop City' to be built. If a number of those people are on a jury, then they would very easily say excessive force was used to kill him and they shouldn't have killed him," Cohen said. "On the other hand, you have others who say the police are doing exactly what they should do and if those are the people are predominantly on a jury then they would say excessive force is not used, it was appropriate force to defend themselves because they were in harms way."
In the months following Paez Teran's death, the protester's family have demanded answers. Attorneys Brian Spears and Jeff Filipovits filed a lawsuit on the family's behalf against the City of Atlanta after the GBI blocked the city from turning over records related to the fatal shooting.
In a statement Wednesday night, Paez Teran's family said they were saddened by the report's finding and urged the GBI to release its investigative report.
"We are devastated to learn that our child, our sweet Manny, was mercilessly gunned down by police and suffered 57 bullet wounds all over their body," said mother Belkis Teran.
In a statement Thursday morning, the GBI told 11Alive that its investigation was done. The casefile was given to the Mountain Judicial Circuit District Attorney's Office on April 14.
The Mountain circuit DA's office, which covers Habersham, Rabun, and Stephens counties in northeast Georgia, is acting as the special prosecutor investigating Paez Teran's death. DeKalb County District Attorney Sherry Boston recused herself from the case earlier this year.
According to the GBI, Paez Teran shot a Georgia State Patrol Trooper during a clearing operation at the site of the future training center. Officers returned fire, killed Paez Teran. Activists have questioned this account.
After Paez Teran was killed, seven people at the site were charged with domestic terrorism and criminal trespass. The GBI said it recovered a blow torch and multiple edged weapons from the site.
There have been other clashes between law enforcement and activists. More than 20 people were arrested and charged with domestic terrorism in March during a protest gathering and musical festival.
The City of Atlanta Public Safety Training Center, referred to as Cop City by opponents of the project, is currently under construction. The site will provide training centers for the city's police, fire and EMS services in the South River Forest in DeKalb County.