That means closed roads, too, in a lot of circumstances.
Here is some of what's been reported in terms of road closures around the metro and beyond. If you know of others, please email us at news@11alive.com:
In Atlanta, Krog Street Tunnel is closed due to flooding.
Trees also fell and blocked Strathmore Dr. in the Lindbergh area, Arron St. in the Penelope Neighbors neighborhood and at Emery Pl. and Norwood Ave. in Kirkwood.
More hazards or downed trees were reported at S. Grand Ave. and Donald Lee Hollowell Pkwy. in Almond Park, Belvedere Ave. in Adams Park, Benjamin E. Mays Dr. at Mays High School, Anderson Ave. in Mozley Park, Johnson Rd. at Boyd Elementary School, and Euclid Ave. in Little Five Points.
We also received a report of Peachtree Creek, which is under a flood warning, spilling over onto Bohler Rd. in Buckhead. 11Alive's Tracey Amick Peer reports a tree down at Havenridge and Peachtree Battle, also in Buckhead, with a second possible tree down at Alton and Peachtree Battle.
Flooding was reported on Hutchens Rd. in South River Gardens, as well.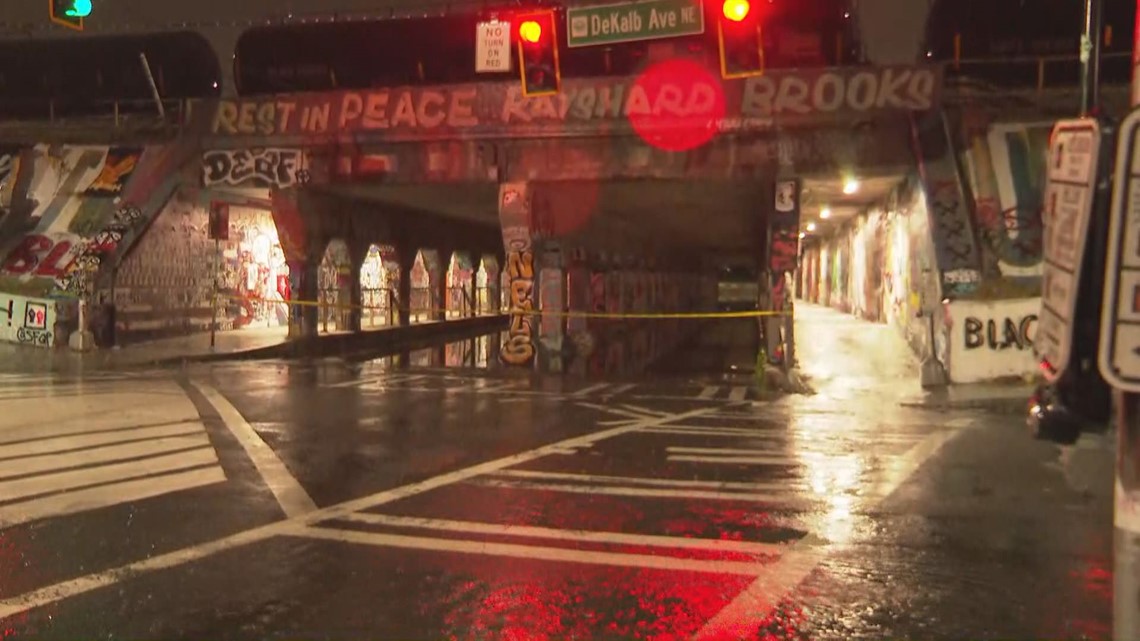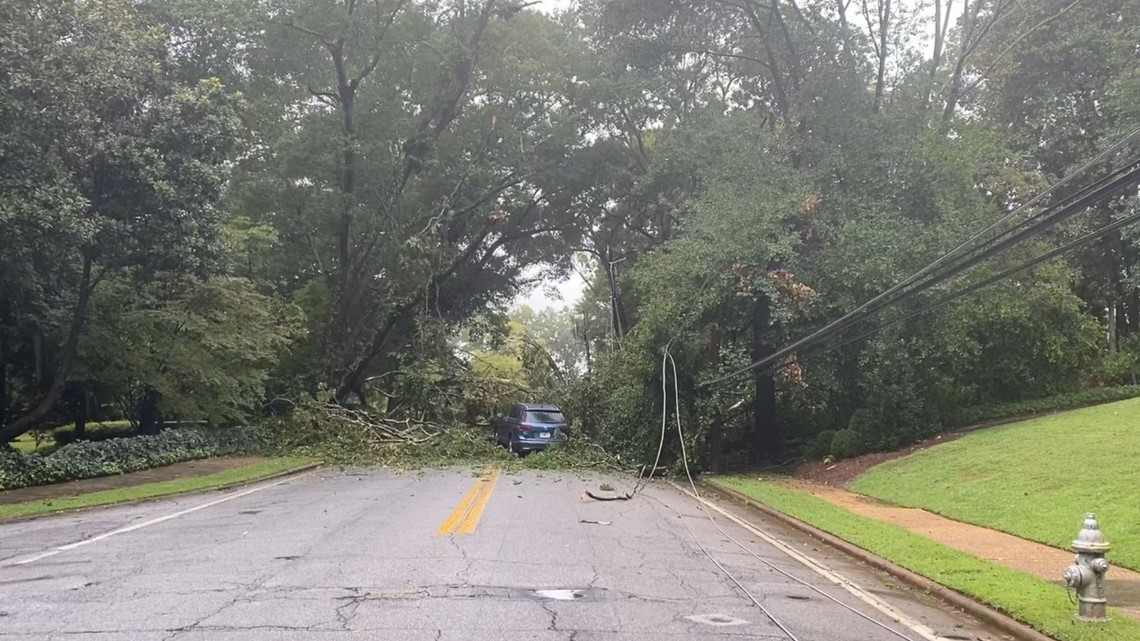 11Alive's Maura Sirianni reported a large tree down at Memorial Terrace SE in East Atlanta.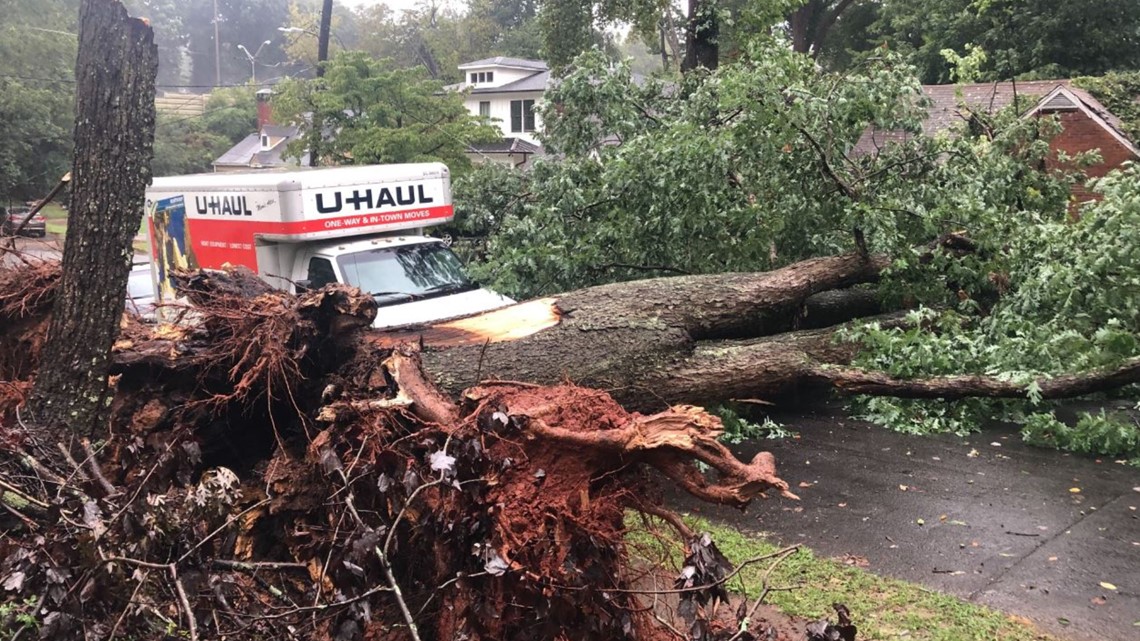 In Clayton County, Upper Riverdale Rd. at Gardenwalk Blvd was closed due to flooding. That closure extends east to Arrowhead Blvd. Trees were also reported down at Hilltop Rd. and Hillview Ave.; Deerfield Ct. and Clover Ct.; and Spivey Rd. and Walt Stephens Rd.
In Sandy Springs, police reported a tree falling onto a police vehicle on GA-400 at Northridge Rd.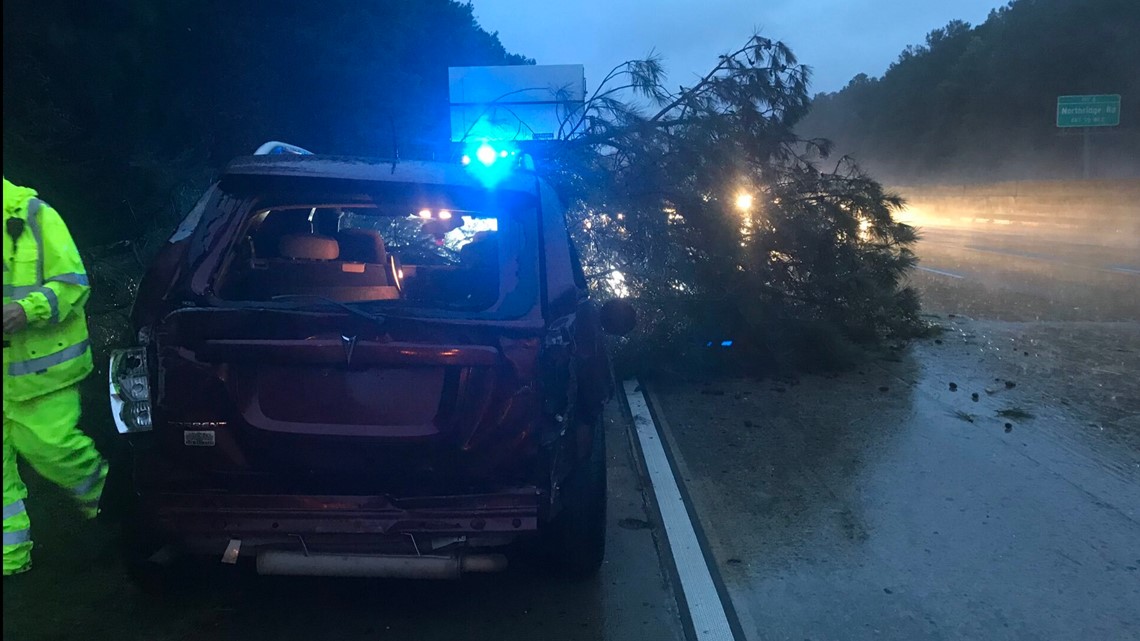 In Dunwoody, police reported a tree blocking the intersection at Mt. Vernon Rd. and Chamblee Dunwoody Rd.
In Milton, Hamby Road is closed "due to a large tree that fell in the roadway" the police department said.
In Fairburn, police reported "standing water on Spence Rd in front of US Foods coming from Fayette county on Hwy 92 towards Oakley Ind."
In Cherokee County, the sheriff's office reports "Lower Bethany Rd. is closed just north of the I-575 bridge due to a fallen tree."
In Walton County, the sheriff's office reported a tree down on Centerhill Church Rd. near McCullers Rd.
In Oconee County, the sheriff's office reported a "large amount of standing water in the 4000 block of 441 just south of Bishop" and asked the anyone "please be cautious if driving through that area."
In Monroe County, the sheriff's office said a "20-foot deep hole in the ground" had been created by North Rivoli Farms Dr. collapsing. The county also reports the following roads closed: Old Brent Road, Maynard Church Road, English Road, and Treadwell Road.