Crucial evidence used to charge three Georgia women for their involvement in a veteran's death is in legal limbo.
The evidence includes hidden camera video showing nursing staff ignoring 89-year-old James Dempsey begging for help as he slowly died inside an Atlanta area nursing home in 2014.
According to DeKalb County court records, Dempsey's son put the camera inside the room with the World War II veteran's permission after he complained about poor treatment from staff.
After 11Alive aired the hidden camera video and video depositions from the nurses in November 2017, the Brookhaven Police Department opened an investigation.
PHOTOS: How a senior care facility failed Mr. Dempsey
In 2018, a DeKalb County grand jury indicted nurse Loyce Agyeman with felony murder. Nursing assistant Mable Turman and nurse Wanda Nuckles were charged with numerous crimes including trying to conceal Dempsey's death.
All declined interviews, but denied wrongdoing through their attorneys.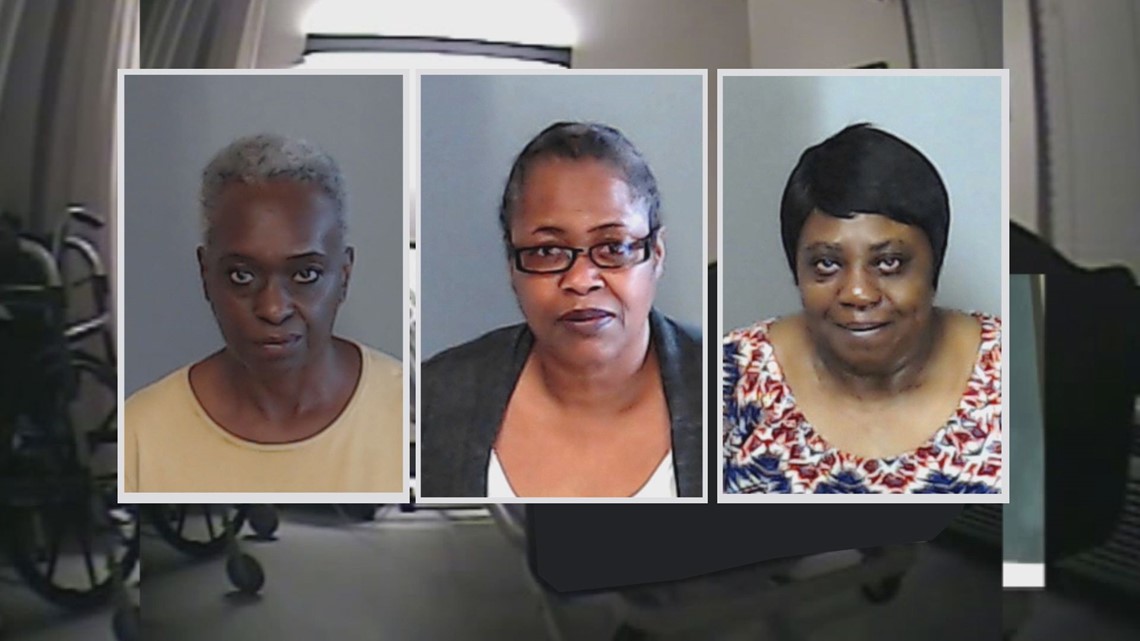 Sherry Boston is the county's district attorney.
"We would not be able to prosecute this case without that video," said Boston in February 2018. "And those videos, in my mind, leave no doubt as to what happened in this case."
Fifteen months later, The Reveal investigative team has learned the trial is on hold, and the video used to charge the three nursing staff could be in jeopardy.
Defense attorneys for the accused women argue the hidden camera video was recorded illegally. This past spring, the Georgia Court of Appeals agreed to hear the case and it could potentially rule the video cannot be used in court.
Latonia Hines is the assistant solicitor in Cobb County and not affiliated with the case. She said Georgia law prohibits anyone from recording hidden camera video in a private place.
"So, [what] the defense attorneys are saying is that their clients had an expectation of privacy and, having that expectation of privacy, that they couldn't have been videotaped without their consent," said Hines.
If defense attorneys are successful in suppressing the video, Hines said it will be nearly impossible for the DeKalb County District Attorney's Office to move forward with a trial.
"It's absolutely massive against the state," said Hines. "As DA Boston said in one of her own interviews, without that video, they don't have a case."
Hines said it's not that cut and dry. The law has exceptions. Use for security purposes is one of them. For example, if a home security camera catches someone stealing an Amazon package from your doorstep, Hines said there's no expectation of privacy.
"And, if there was somebody to have some kind of expectation of privacy, it would have been Mr. Dempsey because he was sort of renting that room," said Hines.
State Representative Demetrius Douglas believes the trial delays could have been prevented. Over the past three years, the Stockbridge Democrat has tried to pass legislation that would require nursing homes to allow families to install cameras in their loved-ones' rooms.
"I don't understand, what [nursing home operators] are trying to hide. If you can't put a camera in there, what are you trying to hide," said Douglas.
While attorneys for the nursing home staff are hopeful the video will be suppressed, legal experts see the appeal as nothing more than an opportunity to delay the trial.
This past December, a DeKalb County superior court judge denied a motion to suppress the video, citing several reasons the three women had no expectation of privacy.
The Georgia Court of Appeals has until November to make its decision.
The Reveal is an investigative show exposing inequality, injustice, and ineptitude created by people in power throughout Georgia and across the country. It airs Sunday nights at 6 on 11Alive.
More of The Reveal: