The National Weather Service said in its final report a dozen tornadoes were confirmed across the state last week.
Georgia tornado details from Jan. 12, 2023 storms
Pike/Spalding/Henry counties: EF-3
The NWS has provided its final report on this tornado, which appears to have been the most significant from last Thursday. According to the NWS' report, the tornado was on the ground for nearly 32 miles – reaching peak winds of 150 mph.
Rating: EF-3
Estimated peak wind: 150
Path length: 31.9 miles
Data from the surveys shows that there were three tornadoes on the ground simultaneously in southwest Spalding and northwest Pike counties. The NWS report states the tornadoes were part of a larger mesocyclone, which can be traced back to the Selma, Alabama, tornado.
The strongest tornado touched down in northwest Pike County, along Hwy 362 west of Irish Hill Drive, where a few trees were snapped and uprooted. It began as an EF-1 as it crossed Kings Bridge Road, Huff Creek and Scott Road. As the tornado crossed Blanton Mill Road, it was determined EF-2 damage was in the area.
As the tornado continued on to Rover-Zetella Road, that's when circulations began. The tornado reached wind peaks of 145-150 mph and destroyed several homes along Kendall Drive. It was upgraded to its EF-3 rating because of this destruction. Major damage was also found along Maloy Road, Highway 16, areas around Griffin High School, The Club at Hwy 19 and North Pine Hill Road. There was also damage to the UGA facility at Demsey Farm, per UGA faculty. The tornado crossed Hwy 92, where numerous businesses and homes were damaged.
The tornado then struck a Hobby Lobby, which suffered severe damage to its roof. Damage to the building was consistent with EF-2 winds of approximately 130 mph. The tornado then continued northeast and more severe damage was found along Northside Drive and McIntosh Road. The tornado then continued on to Smoak Road and N. McDonough Road, where winds weakened. Destruction from the tornado became more sporadic along Amelia Road east to I-75 in Henry County. Once the tornado crossed I-75, the intensity of the tornado increased to an EF-1. The tornado moved across LG Griffin Road, crossed Stanley K Tanger Boulevard and into another neighborhood. After that, it crossed Hwy 23, Jackson Street, Gove Park Drive, Skyland Drive, S. Unity Grove Road and S. Ola Grove Road.
It then continued snapping or uprooting trees through Peaksville Road, where it became less defined and merged with the circulation of another tornado ongoing to the south in the Jenkinsburg area. Spalding County officials said 1,465 homes were affected with at least 250+ suffering major damage or ultimately destroyed.
The damaged area west of Griffin is approximately two miles wide. However, an aerial survey confirms a wide area of EF-0 and EF-1 wind damage.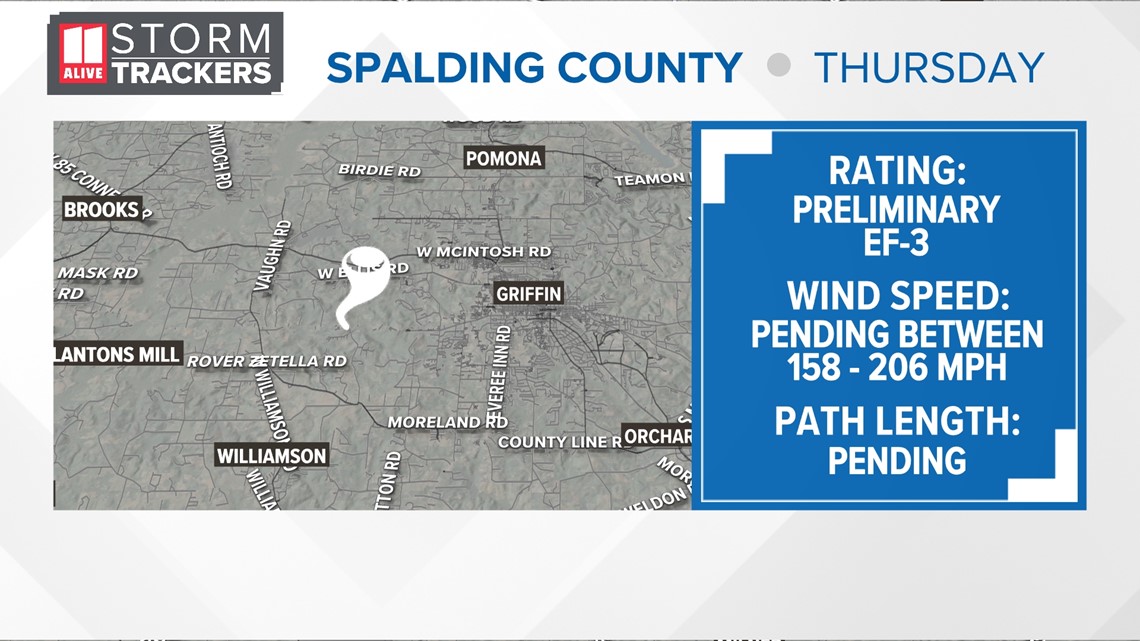 Spalding County, Pike County tornado: EF-1
Another tornado briefly spun up near the Pike and Spalding County line just west of Scott Branch Road. It uprooted trees and continued east-northeast crossing Yarborough Mill Road, before crossing near the intersection of Blanton-Mill Road and Rover-Zetella Road, where more trees were snapped and uprooted. It was then absorbed into the larger tornado west of the Kendall Drive area.
Rating: EF-1
Estimated peak wind: 90 mph
Path length: 3.7 miles
In total, there were four tornadoes that impacted Spalding County. You can check out a map of their paths below:
LaGrange, Troup County: EF-2
Touching down just south of the Callaway Airport, this tornado snapped several trees along Pegasus Parkway before picking up speed and damaging several buildings on Whitesville Road.
Power poles were also damaged along Orchard Hill Road. Though the NWS notes the tornado was only an EF-1 at that moment in time. As it continued northeast, a large warehouse building at the Vaughan Xpress transportation facility was heavily damaged. Then, the tornado crossed I-85, snapping more trees, and continued across the Baldwin Park community, according to the NWS. More than 30 homes had significant damage in this area. Debris was thrown for hundreds of yards.
This is when the tornado increased to an EF-2. As it continued east-northeast into a more wooded area, more trees were cut down and uprooted. The tornado then ripped through the town of Mountville, snapping and uprooting more trees along Trippe and College streets. The tornado finally lifted just before the Meriwether County line.
Rating: EF-2
Estimated peak wind: 120 mph
Path length: 12.3 miles
Troup County 'Standing Rock' tornado: EF-2
It snapped trees along West Point Lake and in the area of North State Line Road before it "began to weaken some as it made its way into Deer Pointe Road and Rock Mills Road." It also reached Neely Road and dissipated around Cameron Mill Road.
Rating: EF-2
Estimated peak wind: 120 mph
Path length: 20.9 miles
Meriwether County, parts of Pike and Spalding: EF-2
The NWS confirmed this tornado formed just east of the Troup-Meriwether county line in Meriwether, at Keith Road to the north of GA-109.
It traveled toward Piney Woods Road, "downing hundreds of trees," then broadened and intensified, blowing the roof off a home on Forrest Road, continuing into neighborhoods south of Allie Road and along Mount Pilgrim Road. The roof was blown off a manufactured home on Groundhog Drive, and the tornado continued along Allie Road and crossed US-27 north of Greenville.
From there it continued toward Rocky Mt. Road and Malcolm Road, to Callaway Road, northwest of Gay, Georgia, going further up to the community of Alps, crossing GA-362 and touching Spalding County and then Pike County at Hollonville Road, then moving north and dissipating back in Spalding east of Blanton Mill Road.
Rating: EF-2
Estimated peak wind: 120 mph
Path length: 27.6 miles
Austell, Cobb County: EF-1
This spun up near the intersection of Oak Ridge Road and Oak Ridge Parkway SW, according to the NWS. It tore a wall off the 18 Wheeler Truck Parts & Chrome building, then moved northeast toward Ivy Pointe Row SW and Ivy Log Drive SW, damaging homes, then moved toward Maple Log Drive SW and Poplar Log Place SW.
The NWS said two homes on Poplar Log Place SW "sustained major damage as large trees fell on the home" before the tornado began moving southeast toward Hembree Lane SW and Blair Bridge Road SW. It traveled onto William Road and then dissipated around Myra Lane SW.
Rating: EF-1
Estimated peak wind: 110 mph
Path length: 1.5 miles
Butts County: EF:1
The NWS confirmed an EF-1 touched down west of I-75 along Windy Lane.
A large warehouse was struck along Midway Drive, with sections of the roof torn off and thrown northeastward into a parking lot. The tornado snapped a few trees crossing I-75 just south of Hwy 16 before crossing Mattie Thomason Road and Colwell Road. The tornado lifted after crossing Joe Lane Road and High Falls Road.
Rating: EF-1
Estimated peak wind: 90 mph
Path length: 5.16 miles
Spalding, Butts, Jasper and Newton Counties
Rating: EF-2
Estimated peak wind: 130 mph
Path length: 31.98 miles
Another tornado, which started in Spalding County and ended in Jasper County, moved through Butts County. The tornado intensified to an EF-2 as it crossed Hwy 36 north of Keys Ferry Road and Haley Road. A 5-year-old was killed along Haley Road in Jackson, Georgia when a tree fell on their car. EF-2 damage was also noted along Pebble Ridge Drive, Hunters Trace, Campbell Road and Hwy 212 before it entered Jasper County.
In Newton County, the tornado crossed into the southern part of the county causing damage along Parker Road, Ray Road, Malcom Road, Quarry Court, Pebble Ridge Drive, Hunters Trace, Campbell Road and Hwy 212.
The tornado then entered Jasper County near the Franks restaurant. EF-1 to EF-2 damage was found along Yancy Road, Dallas Trail, Gem Lane, Lee S. Cove, Alcovy N. Drive, Rainbow Drive and County Line Road.
Bear Creek Marina at Lake Jackson was destroyed along with several campers that were there. The tornado continued northeast crossing Henderson Mill Road -- snapping and uprooting trees. It then moved on to County Line Trail and Highway 11 before weakening and lifting as it approached Margery Lake. A second fatality was determined when a lineman was knocked out of a bucket truck attempting to restore power. Widespread wind damage was seen throughout Jasper and Newton Counties.
Butts/Newton tornado: EF-1
This tornado was part of a larger mesocyclone, which can be traced west all the way back to Selma, Alabama. This particular tornado touched down west of Fincherville Road snapping and uprooting trees on both sides of the road. The tornado continued northeast crossing Keys Ferry Road, where much of the wind damage became intertwined with the long-track tornado to the south of it.
Damage was found near Parker Road and Hwy 36 and Hwy 162. The tornado continued parallel to Hwy 36 snapping and uprooting trees from Malcom Road through Stewart Church Road, Heatherstone Way and the intersection of Hwy 212 and Hwy 36, where a barn was destroyed. Additionally, several trees were snapped and uprooted. There was also a large section removed from the roof of a car wash. There was also severe damage to a greenhouse and a few homes along Stewart Church Road. The NWS' aerial survey confirmed the tornado didn't last long after crossing Hwy 212 and lifted as it approached the Alcovy River.
Rating: EF-1
Estimated peak wind: 95 mph
Path length: 9.93 miles
Warren, McDuffie Counties: EF-1
The NWS confirmed a tornado to the west of Augusta. The EF-1 tornado traveled just to the north and west of Warrenton, then passed to the south of Camak in eastern Warren County, and to the west of Thomson in western McDuffie County. The tornado started near the intersection of Mayfield Road and Riverview Farms Road. It uprooted trees and picked up strength as it approached Atlanta Highway, intensifying into an EF-1 tornado. The tornado crossed Old Camek Road near the intersection of Lithonia Church Road snapping pine trees and causing minor structural damage. It then approached the intersection of Washington Highway and Calvin Drive.
The NWS said the Georgia State Patrol Aviation Division used a helicopter to pick up the trail near Camak, just east of Church Street and moved toward the northeast. EF-0 damage was seen from the helicopter extending from Camak Road to the intersection of Wire Road and Otis Jones Road.
A second NWS survey team determined the tornado strengthened to an EF-1 again as it approached Mesena Road and continued northeast across the county line to Foster Sprouse Road. In this area, several homes had roof damage, a metal work shed and an outdoor kitchen were destroyed and several trees were uprooted -- with one tree falling on a house. The tornado weakened as it crossed Union Church Road and dissipated before reaching West Bypass.
11Alive obtained video of tornadic activity near Thomson, Ga. which is in this area in McDuffie County.
Rating: EF-1
Estimated peak wind: 110 mph
Path length: 16.4 miles


Wilcox County: EF-1 & EF-0
The NWS confirmed two tornadoes in northeast Wilcox County. After surveys, an EF-1 and an EF-0 tornado touched down in the county. The first tornado touched in Abbeville, down near the intersection of US Hwy 129 and Primrose Lane, where it caused extensive damage to a homestead along the road. Damage included uprooted trees, a silo moved, a barn and two sheds destroyed, and structural damage to a home. The tornado then crossed east of the highway and moved into an area near the Ocmulgee River. Minor damage was found on the east of the river, but the continued path was inconclusive.
Rating: EF-1
Estimated peak wind: 100 mph
Path length: 3.1 miles
The second tornado was in Pineview and touched down along Ga Hwy 233, just southwest of U.S. Hwy 129, near the Cedar Creek Baptist Church and Cemetery. Dozens of trees were snapped and uprooted. Once the tornado crossed east of U.S. Hwy 129, it also moved into an inaccessible area near the Ocmulgee River. Its path from there was also inconclusive.
Rating: EF-0
Estimated peak wind: 80 mph
Path length: 2.3 miles