CLAYTON COUNTY, Ga. — It's a crowded race to become Clayton County's next sheriff.
Five candidates vying for votes, hoping to offer stability and safety as the county's next chief law enforcement officer. Residents can vote for their choice during the special election on March 21. Early voting is underway.
The effort to become the county's top law enforcement officer comes as part of the fallout for embattled former Sheriff Victor Hill. Hill served four terms as sheriff before he was found guilty of violating the rights of six inmates while they were under his supervision.
Now Levon Allen is running to fill his shoes as sheriff.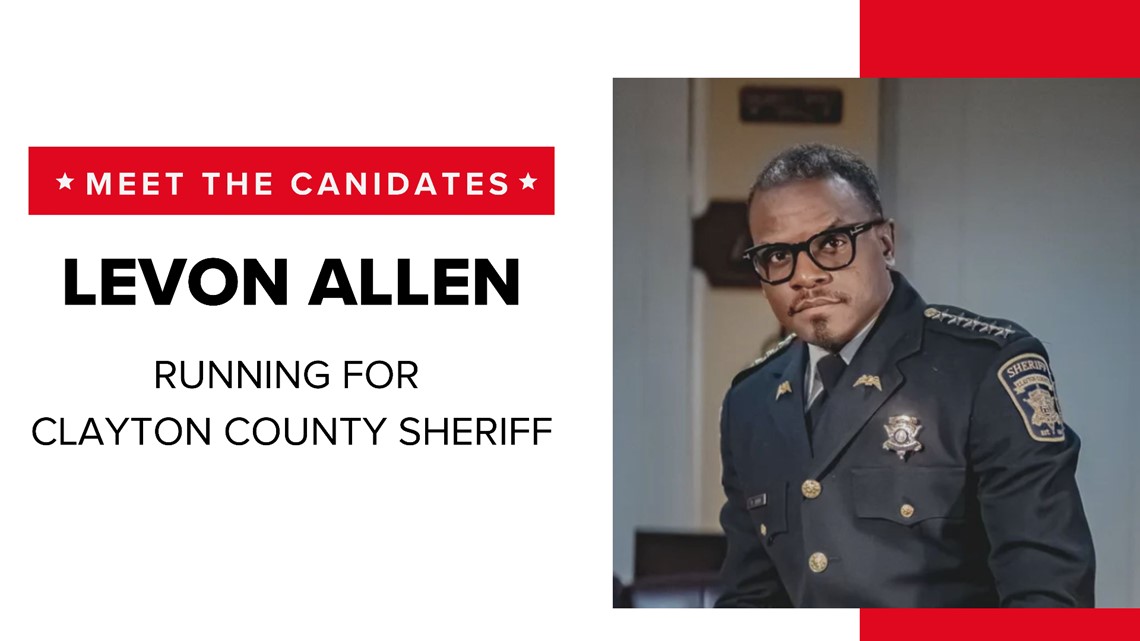 Allen currently serves as interim sheriff, a decision made in the wake of the accusations -- and now conviction -- of Hill.
Though Hill is no longer the county's sheriff, his presence lingers as he has supported Allen's law enforcement career since Allen began.
Allen embarked on his law enforcement journey after experiencing personal tragedies. During his childhood in Clayton County, Allen said his brother was shot and killed in Atlanta, according to his website. A few years later, his sister was also murdered by her boyfriend, he said. He also lost his aunt to domestic violence.
Those tragedies, he has said, motivated his desire to go into law enforcement.
He started in the DeKalb County Sheriff's Office in 2010 as a detention officer.
However, Allen has also had his own run-in with the law. In 2012, Allen resigned from the DCSO, after he was arrested and accused of seven family violence crimes. All but two of the charges were dropped and he was sentenced in January 2013 to serve 12 months on probation.
That same month, Hill hired Allen to work for the Clayton County Sheriff's Office. Hill would become Allen's mentor and godfather. In less than a decade, Allen rose through the ranks becoming interim sheriff in December 2022 -- and is now hoping voters will formally elect him into the role.
During his tenure as interim sheriff, he gets credit for the arrests of suspects in violent crimes in the county, according to the sheriff's office Facebook page, which, as of March 2023, still bears the name of Victor Hill.
But Allen's candidacy doesn't come without controversy.
Critics point to him using taxpayer money, for example, to display his name on all sheriff's office patrol vehicles -- just as Hill did when he was sheriff.
Allen has not attended any of the community forums with the other four candidates and does not respond to requests for news interviews -- including 11Alive's.
As a candidate, he mentions on his website that as sheriff, his goal is "taking back the streets of Clayton County," but does not lay out specific plans on how he will do that.
Apart from his mission to be tough on violent crime, he's also the only candidate that vows to walk in Hill's footsteps and be the sheriff Hill was.
11Alive is committed to helping you vote confidently by understanding who is running for Clayton County sheriff and how the election impacts you. Our goal is to educate and inform our audience about the election process. We plan to do that by verifying facts, providing context, and explaining the system while profiling each candidate. You can find our sheriff election guide here and get more election resources at 11alive.com/vote.