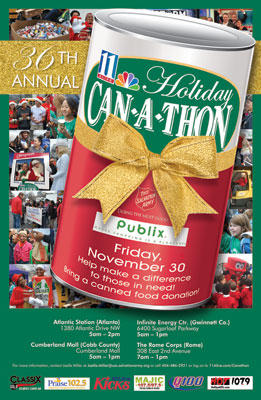 Our neighbors need your help.
Join us and start collecting now!

DONATE NOW ONLINE
CLICK HERE
Can-A-Thon Supporters,
Ladies and gentlemen, START YOUR COLLECTIONS! The 36th Annual 11Alive Holiday Can-A-Thon will take place Friday, November 30, 2018!
The goal for 11Alive's Holiday Can-A-Thon is to stock The Salvation Army food pantries for an entire year.* Hunger is real and more common in our community than ever. In fact, the more than 230,000 cans we collected during 2017's Can-A-Thon ran out in May – five months earlier than anticipated!
Be part of our televised event Friday, November 30, 2018, as we come together to crush hunger in our own communities. The 36th 11Alive Holiday Can-A-Thon runs from 5:00a.m. to 1:00pm.** We will be collecting canned food donations at the following locations:
Atlantic Station
(Fulton County)
**Until 2:00pm.

Cumberland Mall
(Cobb County)
Infinite Energy Center
(Gwinnett County)
Coosa Valley Fairgrounds
(Rome / Floyd County)


The 11Alive Virtual Site will accept financial pledges and donations beginning Friday, November 30.

Register using the form below by Friday, November 16, 2018.

For additional questions, please contact Joelle Miller at Joelle.miller@uss.salvationarmy.org or call 404.486.2921.

Thank you for doing the most good and making a difference in the lives of those facing hunger.



*All food collected in Rome will remain in The Salvation Army food pantry for the greater Floyd County area.


Frequently Asked Canathon Questions
Can I be on TV?
While we would love to feature all persons and personalities who are donating canned goods, we cannot promise or guarantee screen time to any person, group, school, or company. In the event of "breaking news", 11Alive will prioritize coverage of the most pressing local or national news.
Can my group perform LIVE?
We love performances by Can-A-Thon supporters who are bringing canned goods! We are unable to promise or guarantee screen time to any choir, band, or entertainer.
Do you supply boxes?
Unfortunately we do not supply boxes for your canned good collections.
Do you have graphics I can use for social media, newsletters, etc.? Yes! Please e-mail Joelle.miller@uss.salvationarmy.org for Can-A-Thon graphics.
What are acceptable donations?
Non-perishable food items, canned goods (vegetables, soups, meats, sauces, fruits), dry goods (pasta, beans, oatmeal, grits, crackers, cereal), baby formula, and baby food.
Will you pick up my Can-A-Thon donation?
No; we are not able to pick up the donations. Plus, it's so much more fun to drop-off your collections at one of our drop-off sites on Can-A-Thon day!
Can I drop my donation off on the way to work?
Yes! This is the fastest, and easiest way to give. Once you arrive at your drop-off location, our team of volunteers will unload the bags/boxes from your car. You don't even have to turn the car off!