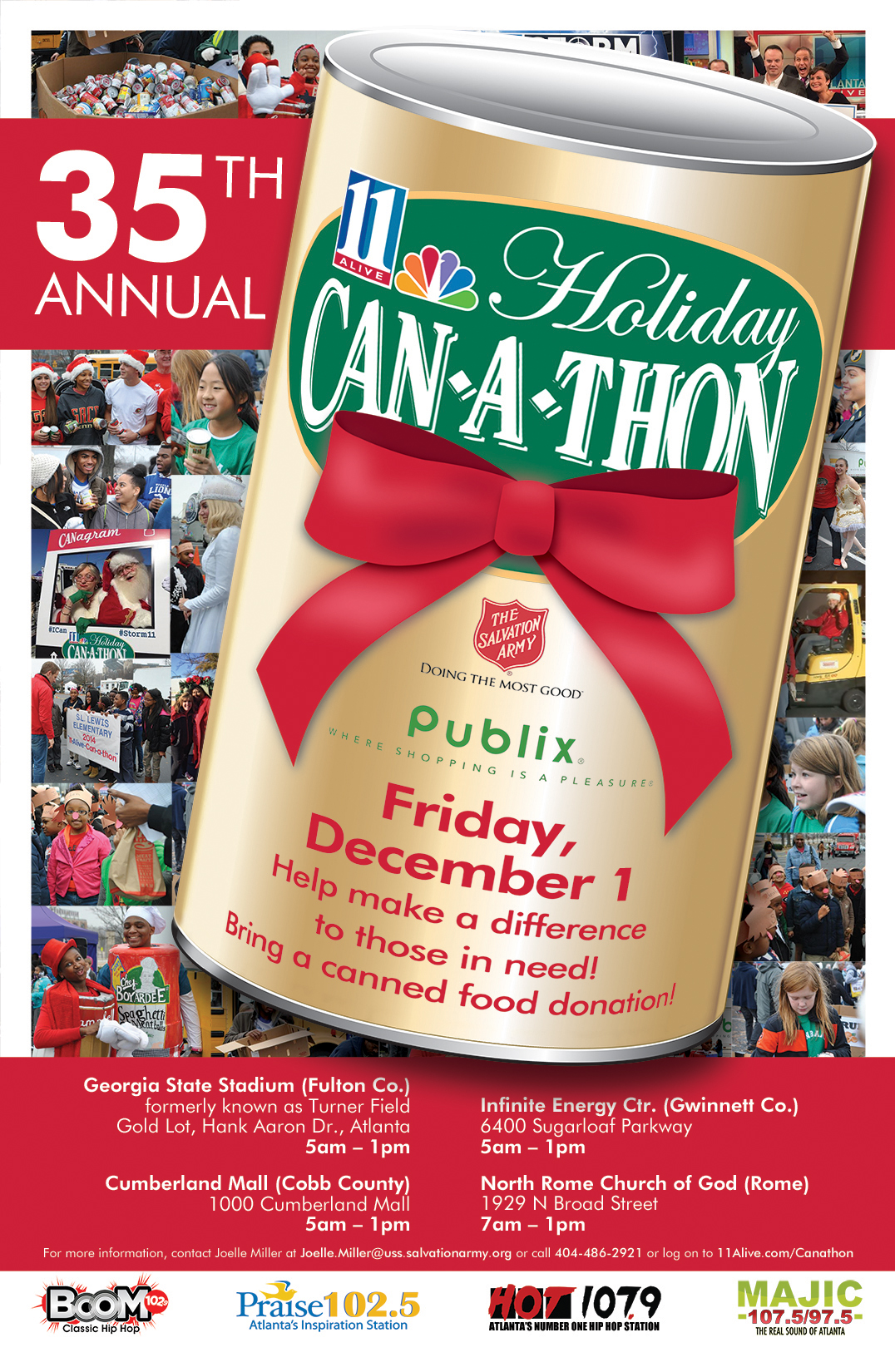 Dear Can-a-thon Supporter,
We invite you to join us at the 35th annual 11Alive Holiday Can-a-thon. Since 1982, the 11Alive Holiday Can-a-thon has raised millions of cans of food for The Salvation Army food pantry. Last year, with the involvement of individuals, schools and businesses
in our community, donations from the 11Alive Holiday Can-a-thon stocked The Salvation Army food pantry in Metro Atlanta and the greater Floyd County area with food to last ten months. Our goal this year is to collect enough donations to fill the pantry with
food to last a year. Help us achieve that goal with your donations and help the hungry and homeless in our community.

The 11Alive Holiday Can-a-thon will once again benefit The Salvation Army.

Families who come to The Salvation Army for assistance pay nothing for their food. The Salvation Army is active in our communities 24 hours a day, 365 days a year, meeting the needs and doing the most good in our local neighborhoods. With your help, we will
continue to support and nourish men, women and children.

Start those can collections and send us your photos! We want to keep up with your progress and encourage others to collect! Send photos
and description to photos@11alive.com and post on social media using #Canathon or #ICAN.
Please join us at our televised event, Friday, December 1, 2017, as we come together to feed Georgia's hungry families. The 35th 11Alive Holiday Can-a-thon will kick off at 5:00 A.M. and end at 1:00 PM.

We will be collecting canned food donations at the following locations:
Georgia State Stadium (Fulton County),
Cumberland Mall (Cobb County),
Infinite Energy Center (Gwinnett Arena, Gwinnett),
North Rome Church of God, 1929 N. Broad Street - Rome
and the 11Alive Virtual Site.

Register online at www.11Alive.com/Canathon or download, complete and return the this registration form or fill out the online form below by November 27, 2017.

Please visit the 11Alive website to find additional information on the 35th annual 11Alive Holiday Can-a-thon. If you have questions, please feel free to contact Joelle Miller with the Salvation Army at (404) 486-2921 or email at
joelle.miller@uss.salvationarmy.org.
Help make a difference in the lives of those in need!

Sincerely,



John Deushane
President and General Manager
The Networks of 11Alive
Major Bob Parker
Metro Atlanta Area Commander
The Salvation Army
Captain Jason Smith
Rome Corps Officer
The Salvation Army